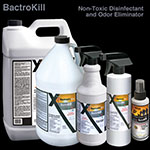 Disinfection by Bactronix
BactroKill 
is next generation hospital grade, non-toxic, nanotechnology, designed to address both microbial and volatile organic compound contamination. It is ideal to use around children, elderly and individuals with allergies, asthma or immune deficiencies. BactroKill's proprietary formulation makes it a unique disinfection system targeting viruses, bacteria, fungi and spores while remaining safe for humans, animals and the environment. It is able to kill in excess of 140 different bacteria and viruses, as well as, the most resilient molds and spores while eliminating bad odors from smoke, urine, vomit, bodily fluids, sulfur, ammonia and other causes.
BactroKill has proven to be extremely effective in killing viruses and bacteria such as, Swine Flu (H1N1), Bird Flu H5N1(Avian), MRSA (Staph), Legionella, Salmonella, C. Diff, C. Diff spores, Norovirus, E. Coli, and many more. It exhibits a rapid kill over a wide range of organisms, and eliminates dangerous pathogens with a non-toxic mechanical kill.
The 3 oz. P3 Spray Bottle has Personal Protection Power and easily fits in your pocket or purse. It's convenient size is great for traveling.
Available in the following sizes:
1 pint bottle ($17.95)
1 gallon bottle ($45.95)
P3 – Personal Protectant ($11.95)
Case of 12 P3 – Personal Protectant ($143.40)
1 quart bottle ($25.95)
2.5 gallon bottle ($108.90)
Case of 12 – 1 pint bottles ($179.50)
Case of 12 – 1 quart bottles ($259.50)
Case of 2 – 2.5 gallon bottles ($206.00)
Case of 4 – 1 gallon bottles ($165.50)
Please call us at 843.282.7777 to place your order!