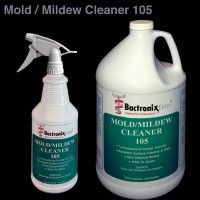 Mold/ Mildew Cleaner 105 is a professional grade mold and mildew cleaner. It is safe for most natural and man-made surfaces. This cleaner is shipped ready-to-use. Do not dilute or mix with other products. It should be stored in a temperature range from 32° F to 85° F. Mold/ Mildew Cleaner 105 may be applied via pump or tank sprayer to large surface areas. Spray this cleaner on surfaces and allow it to soak for 10 to 15 minutes, then wipe dry on non-porous surfaces only.
Available in the following sizes:
1 gallon bottle ($22.55)
1 quart bottle ($12.64)
Case of 12 – 1 quart bottles ($136.50)
Case of 4 – 1 gallon bottles ($81.20)
Please call us at 843.282.7777 to place your order!