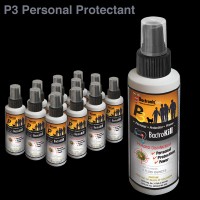 • 3 Ounce Spray Bottle / 3 Fl. Oz.
• 1.675" Dia. x 5.875" H
BactroKill uses a new environmentally safe technology to destroy dangerous pathogens and microbes. This new technology is able to address contamination challenges through a mechanical, non-toxic nanotechnology action. This new technology is far superior to the past method that uses toxic chemical saturation. BactroKill is specially designed to be activated on contact with mold, bacteria, viruses, spores and volatile organic compounds called VOC's. It disassembles life supporting cellular and molecular structures. This scientifically proven process physically kills dangerous microbe organisms on both hard and soft surfaces and eliminates the possiblity of creating a "superbug" which is not true with traditional chemical treatment. 
BactroKill is next generation hospital grade, non-toxic, nanotechnology, designed to address both microbial and volatile organic compound contamination. It is ideal to use around children, elderly and individuals with allergies, asthma or immune deficiencies. BactroKill's proprietary formulation makes it a unique disinfection system targeting viruses, bacteria, fungi and spores while remaining safe for humans, animals and the environment. It is able to kill in excess of 140 different bacteria and viruses, as well as, the most resilient molds and spores while eliminating bad odors from smoke, urine, vomit, bodily fluids, sulfur, ammonia and other causes.
P3 Bactrokill: Clean / Sanitize / Disinfect
A New Era of Disinfection – target organisms are killed mechanically and cannot build up a resistance to a physical kill.
BactroKill breaks through and eliminates biofilm, unlike traditional toxic disinfectants that use ammonia, chloride and peroxide.
BactroKill breaks apart the molecular structure of smoke, fumes and many chemical vapors.
BactroKill is a "Green," eco-friendly product that is not harmful to people, animals or the environment.
BactroKill does not produce VOC's or carcinogens like traditional chemical disinfectants.
BactroKill does not distribute a poison to kill bacteria, rather, it disrupts vital structural components of micro-organisms.
BactroKill has an EPA category IV rating: the safest rating.
Available in the following size:
Case of 12 – 3 ounce sprays ($143.40)
Please call us at 843.282.7777 to place your order!