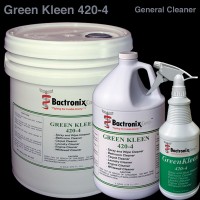 smudges from most washable surfaces. Green Kleen 420-4 cleans on contact. Just spray it on and wipe it off. Its oil emulsifying and cleaning properties make it excellent for cleaning bathrooms, garbage cans, and other areas where odors may be a problem. It is available in quart bottles packed 12 to a case with 2 trigger sprayers, 4 gallons to a case and 5 gallon containers. With Green Kleen 420-4, cleaning is made easy. Spray on and wipe away dirt and grease stains.
Easy to Use
Green Kleen 420-4 is easy and simple to use. It cleans on contact. Just hold the sprayer about eight inches from the surface that is being cleaned. Spray it on and wipe it off. On extremely dirty surfaces, allow Green Kleen 420-4 to penetrate, apply a second spray and wipe. Then wipe the surface with a clean, damp sponge or cloth. Large areas, such as walls and appliances should be cleaned from the bottom to the top to avoid streaking. For removal of built-up, caked on grime, or rough irregular surfaces; spray on, agitate with a brush, then rinse and wipe.
Note: Use care on painted surfaces (particularly indoor latex paint) so as to not create "spot cleaning marks." If it is sprayed on glass, wipe off immediately.
Available in the following sizes:
1 gallon bottle ($9.00)
1 quart bottle ($4.65)
5 gallon bucket ($36.90)
Case of 12 – 1 quart bottles ($49.90)
Case of 4 – 1 gallon bottles ($32.40)
Please call us at 843.282.7777 to place your order!