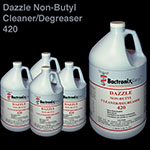 Dazzle is a non-butyl cleaner/degreaser which contains no solvents, acids, abrasives, but still possesses superior grease emulsifying and cleaning properties. It is extremely versatile and can handle nearly every grease surface as well as grease soaked materials. It is excellent for hot water extraction type carpet cleaners.
Dazzle 420 is the ultimate state-of-the-art product for cleaning effectiveness, safety to personnel, and harmless to the surfaces to be cleaned. The particular combination of detergents and emulsifiers in Dazzle have proven to be more effective in emulsifying oils in all applications than any butyl cellosolve type cleaner encountered in the market. This effectiveness is accomplished without the use of potentially hazardous chemicals (such as caustic soda or butyl cellosolve) in its formulation. As a result, Dazzle is less irritating to the hands and skin. It is low-foaming, therefore easily rinsed, leaving no residue after drying. It leaves a clean, fresh presence, not a heavily perfumed aroma. Additionally, Dazzle deodorizes as it cleans, making it an excellent choice for bathrooms, garbage cans and other areas where odors can be a problem. USDA A4, A8 approved.
Available in the following sizes:
1 gallon bottle ($11.70)
Case of 4 – 1 gallon bottles ($42.15)
Please call us at 843.282.7777 to place your order!