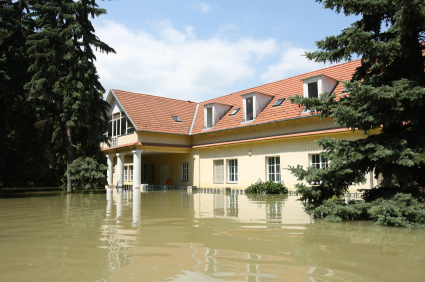 Water damage describes a large number of possible losses caused by water intruding where it will enable attack of a material or system by destructive processes such as rotting of wood, growth, rusting of steel, de-laminating of materials such as plywood, and many others.
The damage may be imperceptibly slow and minor such as water spots that could eventually mar a surface, or it may be instantaneous and catastrophic such as flooding. However fast it occurs, water damage is a major contributor to loss of property.
An insurance policy may or may not cover the costs associated with water damage and the process of water damage restoration. While a common cause of residential water damage is often the failure of a sump pump, many homeowner's insurance policies do not cover the associated costs without an addendum which adds to the monthly premium of the policy. Often the verbiage of this addendum is similar to "Sewer and Drain Coverage".
Water damage can originate by different sources such as a broken dishwasher hose, a washing machine overflow, a dishwasher leakage, broken/leaking pipes, flood waters and clogged toilets. According to the Environmental Protection Agency, 13.7% of all water used in the home today can be attributed to plumbing leaks. On average that is approximately 10,000 gallons of water per year wasted by leaks or each US home. A tiny, 1/8-inch crack in a pipe can release up to 250 gallons of water a day.
As far as insurance coverage is concerned, most damage caused by bad weather is considered flood damage and normally is not covered under homeowners insurance. Coverage for bad weather would usually require flood insurance.
Water damage restoration is often prefaced by a loss assessment and evaluation of affected materials. The damaged area is inspected with water sensing equipment such as probes and other infrared tools in order to determine the source of the damage and possible extent of area affected. Restoration services would then be rendered to the residence in order to dry the structure, sanitize any affected or cross-contaminated areas, and deodorize all affected areas and materials. After the labor is completed, water damage equipment including air movers, air scrubbers, dehumidifiers, wood floor drying systems, and sub-floor drying equipment is left in the residence. Industry standards state that drying vendors should return at regular time intervals, preferably every twenty-four hours, to monitor the equipment, temperature, humidity, and moisture content of the affected walls and contents.
Contact Information:
Bactronix of the Grand Strand
Hours: By Appointment
Phone: 843-282-7777
Email: Greg Busang, Owner
Major Credit Cards Accepted
1 Year Warranty & an Antimicrobial Certification for your home